A bakfiets - also known as a cargo bike - is a popular way of transporting your small children. The bakfiets has its origin in the Netherlands, where many families are already using it instead of a (second) car. You've certainly seen them around in the UK as well. They come in different shapes and sizes. There are two-wheelers for sporty parents who love manoeuvrability and sportiness, and there are three-wheelers that added space and stability. More and more young parents are making this informed decision. Young fathers and mothers are more often opting for a cargo bike to improve their family lives. But why?
1. Cycling with a baby
A bakfiets allows you to transport several children. Depending on the model, you're able to transport 1 to 6 children. Even your 3-month old can ride along in the cargo bike in a Maxi Cosi or baby seat, so you'll be able to enjoy bike rides with the entire family.
2. Keep your children safe in line of sight
A bakfiets allows you to keep an eye on your children at all times. Parents will enjoy the fun their kids are having in the bike, and children will enjoy this quality time with their parents.
3. Lots of space in the bakfiets
Cargo bikes offer a lot of space, so you'll be able to transport groceries as well. Say goodbye to full grocery bags hanging from the handlebar while zigzagging along the cycle path.
4. Easily bring boyfriends or girlfriends with you
Your children's friends can tag along in the bakfiets in case of unexpected after-school play dates. There's plenty of space!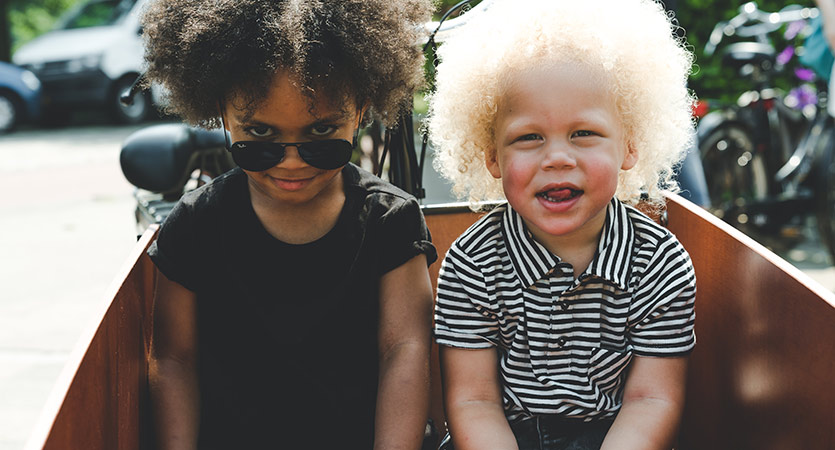 5. Sustainable solution
Sustainability plays an ever-growing role in family life. The purchase of an expensive, petrol-guzzling family car continues to be postponed with the introduction of a bakfiets. It's your way in helping to reduce CO2 emissions.
6. Family car is not necessary
There's no need for dad to exchange his sporty car for a proper family car. The cargo bike can complement a family car. When your cool son or daughter is a bit older, he or she will still be able to enjoy a ride in dad's sports car.
7. Don't pay road tax anymore
If you're planning on buying a second car, a bakfiets may tip the scale when making a decision. Having a second car parked in front of the house can be a costly affair. The savings from a bike could go towards a day trip to the zoo, for example.
8. No problems with parking costs
A second car needs a parking space. This could prove difficult if you're living in a busy city. With a bakfiets you don't have to drive around and around to find a suitable parking spot. Your bakfiets can be parked in your garage or garden.
9. You don't need a driver's license
A cargo bike may be a great mode of transportation for your family in case you don't have driver's licence. Taking your family on a bike tour with a bakfiets is a unique experience.
10. Cycling is healthy!
It's recommended to exercise at least thirty minutes a day. A bakfiets will take care of that right away. You'll feel healthier and it'll give you more energy. And this positive energy can be passed on to your family.