You want to buy a cargo bike, but where do you begin? Taking a test ride is the best advice that we can give, but before you get that far you will have to make a few choices. With these 10 tips, we will help you on your way so that you know what you should bear in mind in order to find the best cargo bike.
1. Cargo bicycle or tricycle?
You can choose for a cargo bike with two wheels, just like a normal bike, or a cargo bike with three wheels (one at the back, two at the front). In general, cycling on a bicycle is dynamic and manoeuvrable and you can cycle faster. A tricycle is stable when stationary and for children getting on. Cycling on a bicycle is easy for many people because we are used to a normal bike. Cycling on a tricycle takes some getting used to because cycling and steering are a bit different due to the three wheels.
2. An electric cargo bike or not?
It is not heavy cycling on a normal cargo bike. The heavier the load is, the harder you will have to pedal. A non-electric cargo bike is used in particular for small distances and people who do not mind pedalling a bit harder in a headwind or uphill. Extra exercise can also be a good reason.
An electric cargo bike supports you up to a maximum of 25 km per hour. The pedal support is only active when you are pedalling. If you stop pedalling, the pedal support also stops. You cycle off with a full load without any effort and you are much less bothered by a headwind.
With an electric cargo bike, you can choose between a cargo bike with a rear wheel motor or a cargo bike with a middle motor. The choice also depends on your wishes and your budget. A cargo bike with a middle motor is more expensive than a cargo bike with a rear wheel motor.
We explain the difference on the page What's the difference between an E-cargo bike and a Mountain cargo bike?
3. What can you transport as cargo?
What will you use the cargo bike for? A family cargo bike is intended for transporting children. If you plan to transport more than three children, the best cargo bike is one with three wheels. A dog cargo bike is designed for transporting one or more dogs. Very useful if you want to go to the park or the beach. We already wrote about: Taking your dog out on the bike, why not?
Did you know that Babboe also has delivery bikes for business purposes, such as delivering meals or packages?
4. What is your budget?
Do you have a particular budget in mind for buying a cargo bike? A normal Babboe cargo bike is available from £1649 and an electric cargo bike from £2549. Babboe delivers directly to the consumer, so we can offer prices with a good price-quality ratio.
5. Is the cargo bike safe?
When buying a cargo bike, check whether it meets your safety wishes. Babboe cargo bikes have been checked by the renowned international testing company SGS and by TUV. A cargo bike with three wheels has tilting stoppers. In the dark, you are clearly visible thanks to the good lighting. In addition, all the cargo bikes have extra wide tyres for optimum cycling comfort.
6. Cargo bike with a handlebar or rod?
A cargo bike with three wheels is available with a normal handlebar or a rod. The Babboe cargo bikes all have a normal handlebar. As a result, you do not need to get used to a different cycling position. You are already used to a normal handlebar, it is comfortable and safe.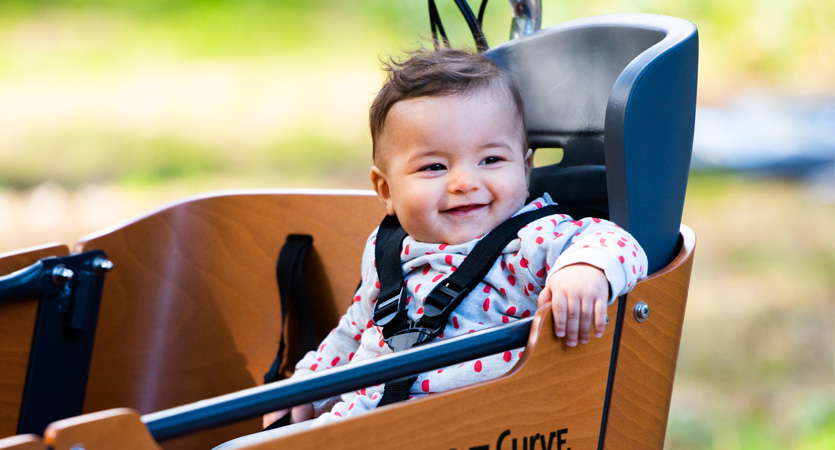 7. What accessories do I need?
You can 'dress up' a cargo bike in many different ways. If you are going to transport babies or toddlers in the cargo bike, you can now already take into account the accessories that you will need for this purpose. Can you transport twins in the cargo bike? Does a maxi cosi carrier fit in the cargo bike? What child seat do I need?
Babboe has the widest selection of cargo bike accessories, such as child seats, rain tents and cargo bike cushions.
View all cargo bike accessories
8. Is servicing necessary?
Servicing a cargo bike is an art in itself. Not every bike mechanic has the means of servicing a cargo bike.
With Babboe, in the Netherlands and Belgium you can choose for the unique cargo bike home service The mechanic will come to your home for service and repairs. In other countries, such as the UK, Babboe works together with a large network of bike shops. See the bike shop overview to check whether there is a bike shop near you.
9. Would you like to lease a cargo bike?
In the Netherlands, you can also lease a Babboe cargo bike. The big difference between buying a cargo bike is that with a lease arrangement you choose for service and convenience. You pay a fixed amount per month with a duration of 24 or 36 months. In the future Babboe intends to offer leasing in the UK as well.
10. Take a test ride
In order to choose the best cargo bike, it is best to take a test ride on several cargo bikes. In this way, you will soon discover the advantages of an electric cargo bike and you will feel whether a cargo bike with two or three wheels suits you best.
You can test a Babboe cargo bike nearby at a bike shop.