No plans for the summer holidays yet? Or no idea what you are doing because of Covid-19? Then go on a cycling holiday! Or even better, a cargo bike holiday! Maybe it doesn't sound too normal, and it isn't, but it's definitely a good idea!
In 2019 a family won a fully-catered cargo bike holiday with the Babboe Slim Mountain. The Chillery family from the UK were the lucky winners. Yuge, James and their 2 small sons cycled through The Netherlands, Germany, Belgium, France and the United Kingdom with their Babboe Slim Mountain and had a great adventure.
We are extremely grateful to have been part of this experience. Every single member of our family had a great time and it definitely won't be the last time we do something like this!
- Yuge Chillery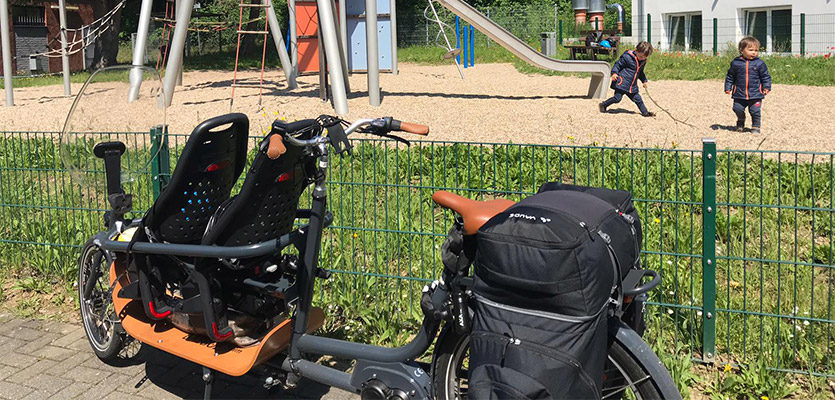 If you are in doubt, you really should try a bike vacation. Of course, you don't need to cycle through 5 different countries straight away like the Chillery family, but a cargo bike holiday in your own country isn't such a bad idea. If you select a cycle route which isn't too difficult, you can get on the road with basic equipment. You can also choose your daily distances to suit your abilities. You can slowly build up the "professional" equipment, or possibly borrow it from other holiday cyclists.
Go for cycling routes
The advantage of cycling on cycle routes is that someone else has already taken the trouble to find interesting trails. 9 of out 10 times these paths are ideal for cycling because they have been selected by other people who have been on a bike vacation themselves. The cycle routes run along attractive trails where nature, small rivers and pretty villages and interesting towns provide plenty of variety. With a cycle route, thought has also been given to the options for overnight accommodation, dining out or buying groceries.
Route and day planning
With a bike vacation, or a cargo bike holiday, you decide how many miles to cycle each day. Some people prefer to visit a cafe or a monument more often. Others just like cranking out the miles. Nothing is a must. Everything is possible. You decide everything for yourself!
But be aware that day planning also depends on many other factors.
The overall route and available time: take the more difficult sections of the route into account. But also consider the need for rest days, or days for example where you would like to walk in a nature area or discover a city in more detail.

Overnight accommodation options: some route sections have plenty of choice, but sometimes a bit of searching is required. There may be problems reaching the next campsite within a 1-day route section. So then make sure you have something else up your sleeve, like an Airbnb.

The difficulty of your route: the weather, the road surface or hills and mountains can significantly influence your average speed.

Physical possibilities: your daily distance will be dictated by the number of hours you spend in the saddle, not the maximum number of miles to be achieved. 6 hours is achievable with some experience, but for beginners around 4 hours of cycling per day is more achievable.
So factor these points into the plan in advance and don't be too optimistic in your planning to prevent you having to spend too long in the saddle.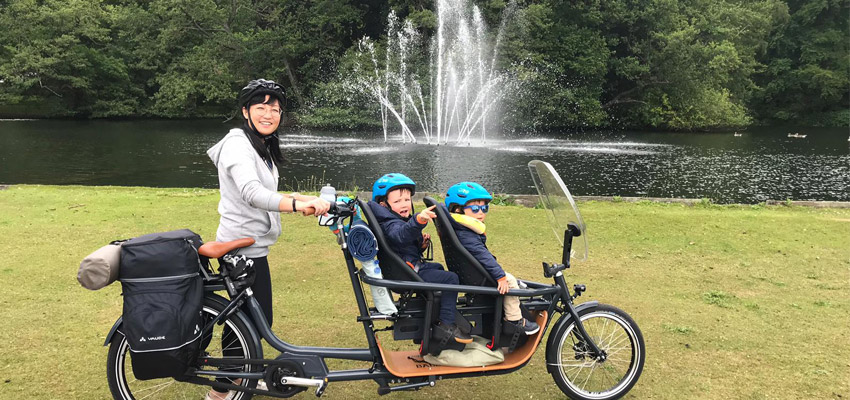 Cycling with children - A beginner's guide
According to the Chillery family, cycling is a fantastic experience for the whole family. It is environmentally-friendly, a rich learning environment for children, you are out in the fresh air and you see much more of the places you visit.
Thinking about going on a cargo bike holiday, but don't know where to get started? Following her experience, Yuge Chillery wrote a short guide containing the most important points to consider.
Children: if you think the physical effort will be the biggest challenge, you're wrong. It's the children. Therefore adjust your time on the bike to the needs of the children. 4 hours per day is definitely the most they can tolerate in the cargo bike. Plan long and short breaks, playtime and sightseeing. And entertain your children with books, games and cuddly toys.

Distance: if you are unsure how fast you'll travel then start slow. At the start it's best to do small distances, and then try longer distances later on. That's the best way to find what suits your family.

Route planning: Google Maps has a beta-version for cycle routes. It generally works quite well, but sometimes it takes you on paths which are not suitable for cargo bikes. So be flexible and consider diversions in your planning.

Itinerary: don't forget to include rest days. They are essential to revitalise your energy, catch up on missed naps, to play and to see the sights. The same applies for the distance. Start slowly, and then go further.

Accommodation: choose the accommodation carefully, and make sure there are local facilities if you need them. Sometimes the nearest supermarket or restaurant might be a few miles further away.
So a bike vacation on a cargo bike really isn't such a crazy idea. It's also good for your fitness! What will your plans for the summer be?