Over the last year, parcel couriers have delivered a record number of packages. This increase is largely due to the COVID-19 crisis. It was particularly (exceptionally) busy at the beginning of the lockdown because more and more people were shopping online. Many experts believe this growth to continue because people have grown accustomed to shopping online. It is therefore vital that retailers invest in Last Mile Delivery: the last stage of the delivery process before a product reaches the customer. The Babboe Pro delivery bike can help with this.
Research carried out by the Capgemini Research Institute has shown that many organisations feel that current Last Mile Delivery delivery vehicles are not suitable for full deployment in all locations. This is because delivery vehicles often get stuck in traffic during rush hour and do not reach their destination on time. Meanwhile consumers are placing increased importance on fast or on-time delivery, especially now when shops are closed because of the COVID-19 pandemic and products are being ordered online.
The rapid growth of online sales has placed enormous pressure on traders in urban areas. This combined with costly and inefficient transport by delivery vehicles during last mile deliveries for web shops, which usually takes the form of traffic queues and air pollution from vehicle emissions. The so-called 'last mile' is one of the most expensive, most polluting and least efficient links in the transport chain. This needs to be different. This needs to be better.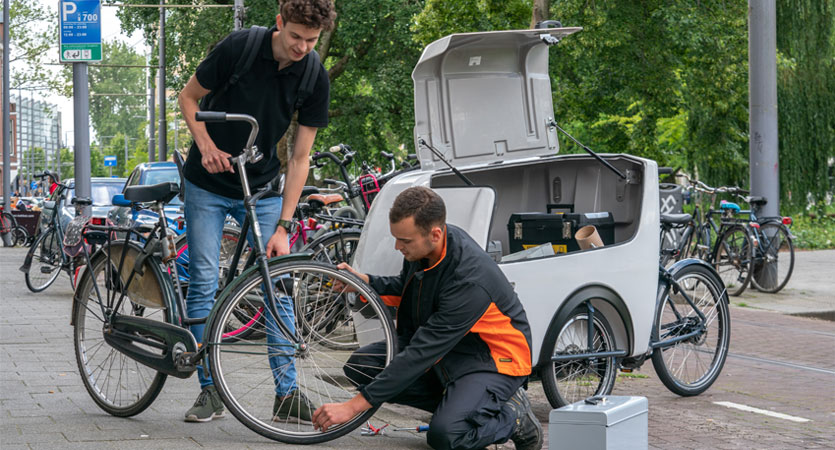 The use of electric cargo bikes in urban areas is becoming more and more popular among logistics service providers, couriers, e-commerce companies and service technicians. The advantages of a cargo bike for last mile delivery speak for themselves. Think of the queues of traffic you can avoid and the CO2 emissions you will reduce. Because the majority of deliveries are less than 100kg in weight, a cargo bike is ideal for this role. Cargo bikes can therefore lead to progress in urban areas and improvements to Last Mile Delivery.
No more waiting in traffic queues or damage to the environment, plus you can park anywhere and reach your destination in record time. That's what any entrepreneur would want, right? Delivery bikes are the ideal method of transport for fast and sustainable goods' transportation in urban areas. This makes Babboe Pro cargo bikes highly suitable for Last Mile Delivery Cargo bikes can help entrepreneurs and their companies keep customers happy as a result of last mile delivery.
A variety of research methods and prototype testing has shown that an electric cargo bike for commercial transportation needs to be as sturdy as possible. This is why the bikes are made from the strongest available material. Thanks to the sturdy cargo box with its convenient space layout, couriers can easily reach packages at the front and back of the box. This super speedy cargo bike will help easily navigate through busy urban traffic. Got a route outside the city centre? The Babboe Pro cargo bike can still travel at fast speeds within an action radius of 40 to 60km, meaning you can complete your route in next to no time. This makes the final stage of the delivery process a piece of cake!