Mummy bikes and cargo bikes are gaining in popularity. There are an increasing number of them being ridden around. Perhaps you already own one, or you're looking at getting one of these bikes. Indeed, mother bikes and cargo bikes are ideal modes of transportation for excursions with your children. That's why it's good to consider both the mummy bike and cargo bike before purchasing one. But what's the best choice? Here's a list with the pros and cons.
Mummy bike: Slender and manoeuvrable, but less space for the kids
As soon as your baby is able to sit independently, it is high time to go on your first bike ride together. How exciting! The familiar mummy bike is an option for a first bike ride with the little one. A mother bike is a bicycle that's specially made to take your child(ren) along on a bike ride. For example, there's more space to install a bike seat and it often has a lower step through than a 'regular' bike. You could consider purchasing an electric mummy bike to go on longer trips with your little ones.
The advantages of a mummy bike
A mummy bike is generally less expensive than a cargo bike, with the exception of an electric mother bike.
A mother bike has a longer rear carrier, creating space for a bike seat at the back. A longer rear carrier also provides more space and therefore your child doesn't have to just stare at your back.
The mummy bike can be stored (almost) anywhere.
The disadvantages of a mummy bike
Your child can only be transported when it is able to sit independently, so from about 8 months.
A mummy bike only has space for up to 2 children. If you want (or need) to transport more than 2 children, you won't be able to.
With 1 child at the front and 1 at the rear, it sometimes results in wobbly situations.
If you're transporting 2 children, you'll only be able to keep an eye on one of them.
Transporting 2 children leaves very little to no space for groceries.
A mother bike doesn't offer your little ones the same protection from the sun and rain.
---
Cargo bike: Safe and room for 1-4 children, however it takes up more space
The first bike ride with your little one could also be done in cargo bike. With a baby seat, even your 3-month old baby can ride along in the cargo bike. A cargo bike is a bike that's specially made to transport young children. With a cargo bike you'll simply and quickly make your way through a busy city and bring your children safely to their destination. And, to add to the fun, your children are all sitting in front of you in the box. Cosy!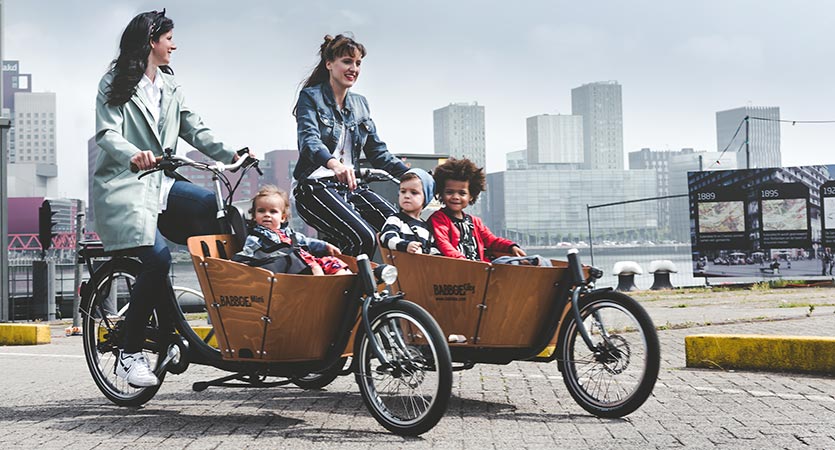 The advantages of a cargo bike
A three-wheel cargo bike stands firmly on the ground thanks to its three wheels, so you don't have to worry about your bike tipping.
Even your 3-month old baby can come along, thanks to the baby seat or Maxi Cosi carrier.
A cargo bike allows you to transport several children. Depending on the cargo bike model, you're able to transport from 1 to 4 children.
There's lots of space in a cargo bike, it transports your children and your groceries.
You're able to keep an eye on your children at all times, so you can enjoy the fun your kids are having in the cargo bike.
A rain tent or sunshade can be installed on the cargo bike. In case of a sudden shower, your children will stay nice and dry. A sunshade blocks strong UV rays, so your children are protected from the sun.
Sometimes it's a bit dangerous to let your older children bike on their own in a big city. A cargo bike allows you to transport older children as well.
The disadvantages of a cargo bike
The extra weight results in a slower reaction when accelerating or braking.
Cargo bikes are quite long and therefore take up more space than mummy bikes.
Cargo bikes have a wider turning radius, so curves are quite a bit wider than on a mother bike.
Cargo bikes are generally more expensive than mummy bikes, with the exception of electric mummy bikes.
---
The bottom line is that both bikes are specially designed for bike trips with young passengers. Cycling together on a mother bike or cargo bike is more fun, more comfortable and safer. It's up to you to decide which bike is better suited to your needs. Will you choose a mummy bike or a cargo bike?