The days are slowly getting longer. Temperatures are gradually getting warmer. Before you know it, it'll be summer. High time to start thinking about your summer holidays. Holidaying at home (again) this year? Or maybe going abroad? As long as you can rent a Babboe cargo bike when you get there, right?
A cycle through or along the dunes is a delight: stunning nature, a cool breeze and the chance to let off steam on the beach. Let's take Texel as an example. The largest of the Dutch Wadden Islands has a number of stunning sand dune areas: from the high dunes of the North Sea Coast which form the 'Duinen van Texel National Park', to the low-lying rows of dunes on the island's Wadden Sea coast. An incredibly beautiful bike route where a Babboe cargo bike is an absolute must. There are numerous locations across the country where you can rent cargo bikes, including on Texel.
Can you picture it already? You on your bike and your kids in front of you in the box. What a wonderful image! Going on an adventure to discover the island together. Renting a cargo bike on holiday is not only fun, but also very handy. You can carry up to 4 children on your cargo bike (depending on the model). There is also room for extra luggage (so you can always take a picnic basket with you!). Perfect for a day trip. Babboe rental cargo bikes are fitted with an electric Yamaha mid-drive motor with force sensor and a stepless shifting system. Ideal for long cycling trips with the whole family across any landscape: flat or hilly, cycling through the picturesque villages on Texel or a simple cycling through the beauty of nature. Renting a cargo bike is therefore a perfect addition to your holiday. Are you ready?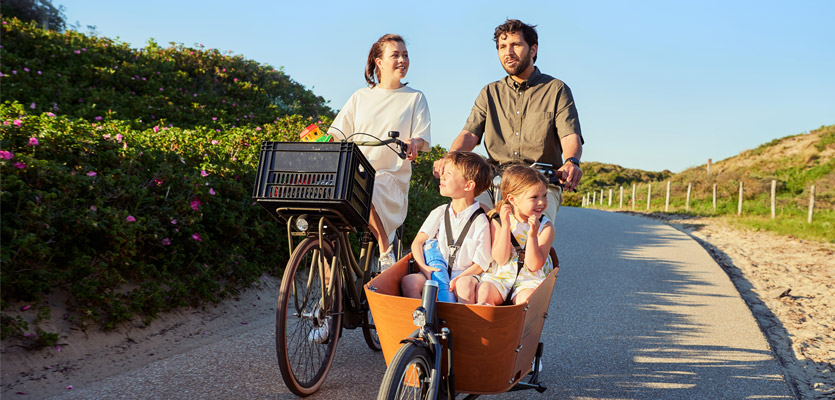 Bike rental companies
Babboe has selected three suitable electric models for rental companies. These are the Babboe Curve Mountain, the Babboe City Mountain and the Babboe Slim Mountain. With the Babboe Mountain range, you can tackle long distances no matter what the weather!
'We here at Vermeulen Bikes have been hiring out Babboe cargo bikes for some time now. Cargo bikes are ideal for visitors to Texel with young children. Babboe cargo bikes really draw people in for a test ride, and before you know it they've been rented out for a couple of days'. Sander Vermeulen, owner of Vermeulen Bikes (Texel).
(Cargo) bike path on Texel
Texel, the largest of the Dutch Wadden Islands, has a widely diverse range of landscapes, flora and fauna. During this cycle route you will discover both the North Sea and Wadden Sea coasts of the island. These are two completely different landscapes. On the North Sea coast of Texel you can cycle through the Duinen van Texel National Park. As you may have already guessed, a large area of this nature reserve consists of sand dunes. One of the most remarkable areas of the National Park is 'De Slufter'. De Slufter is a salt marsh plain that is largely closed off by sand dunes and has an open connection to the North Sea. At high tide, the inlets that form De Slufter are flooded with water. Any plant life that grows here must salt-resistant in order to survive these environmental conditions.
Continue along the bike path past the lighthouses. After a brief glimpse of Texel's Wadden Sea coast, you'll head further inland for a bit. Here you can cycle along the Texel polder, at the end of which you will come out onto the Wadden Sea coast again. You will get back to the starting point via Den Burg, thereby completing a delightful cycle ride with your children on your rental Babboe cargo bike.