When planning a wedding, it's perhaps not the first form of transportation you'd think to use. But a picturesque vehicle might just make a difference on your wedding day. Looking for an original idea? And already have a cargo bike waiting in your shed? Use a cargo bike as your wedding transportation! You will definitely turn heads when the two of you arrive at your wedding location in your unique wedding-ready cargo bikes!
Decorate your cargo bike
You can decorate your wedding cargo bike just like you would a wedding car. Use ribbon, tulle, and some of the same flowers you'll use in your bouquet to give your cargo bike a festive makeover. And how about some helium balloons tied to the cargo container? Familiar with the tradition of tying cans to the back of the wedding car after the wedding? The sound they make when you drive is supposed to scare away evil spirits. You can do the same with your cargo bike wedding transportation!
Turn your cargo bike into a real wedding day head-turner.
Wedding photos with your cargo bike
A wedding cargo bike can also enhance your wedding photoshoot! Whether you sit in the cargo container or stand next to the bike. The picturesque, decorated wooden container will give your photos a unique twist.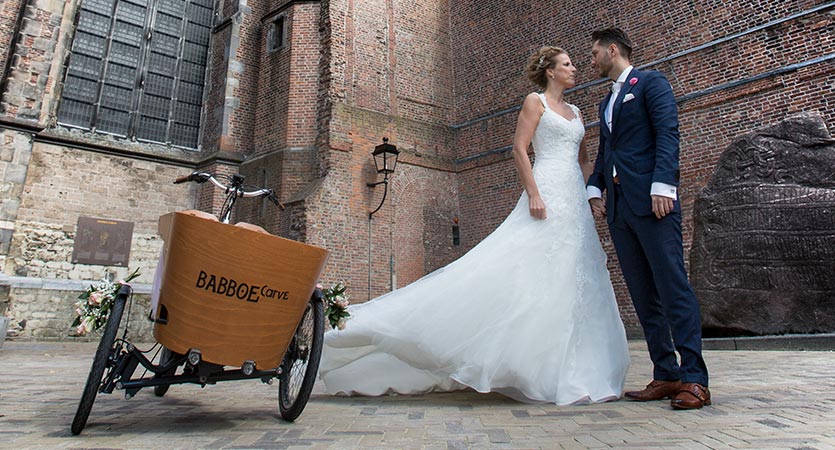 Photographer: Ilona van Egdom
Which cargo bike to use as wedding transportation?
Any Babboe cargo bike can be used as a wedding vehicle. Though the stability of a three-wheeled cargo bike makes it easier for the bride to climb on. The cargo container has plenty of room for even larger wedding gowns. But, of course, you can also use a two-wheeler as your wedding transportation. Tip: It's a good idea to practice biking with the extra weight of the bride and dress in the container a few times. Or, you can both sit on the bike and bike your children, or flower girl and ring bearer, in the cargo container. There are plenty of possibilities!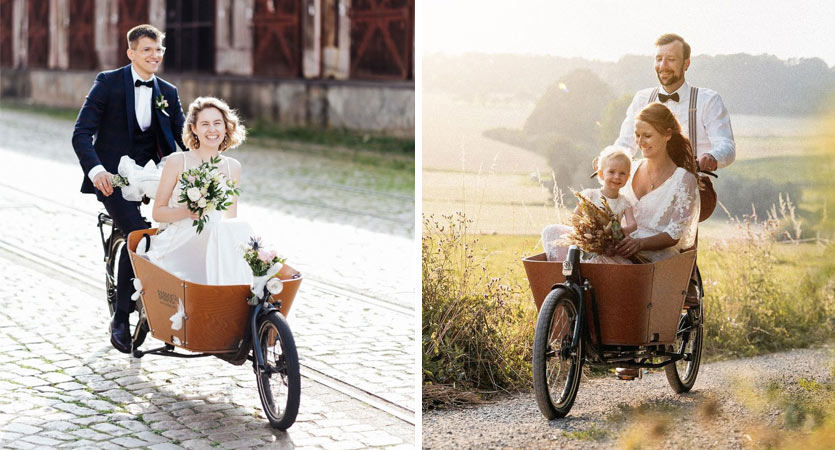 Photo: @endlichbilder | @ourtravelness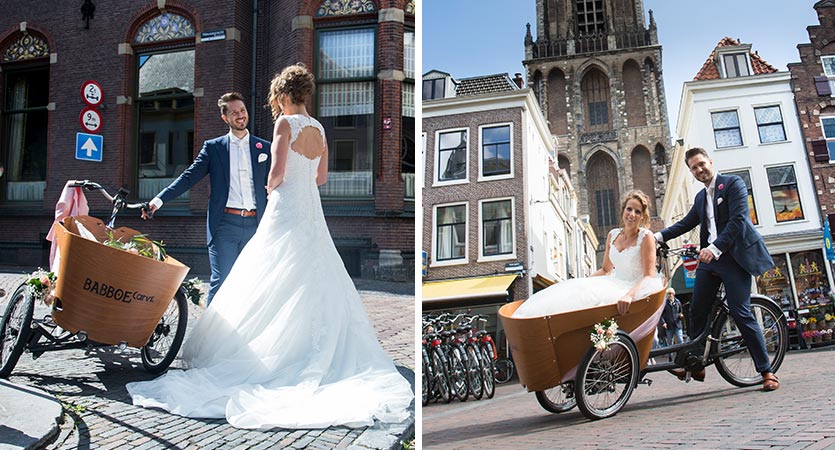 Photo: Alexander & Teresa (photographer: Ilona van Egdom)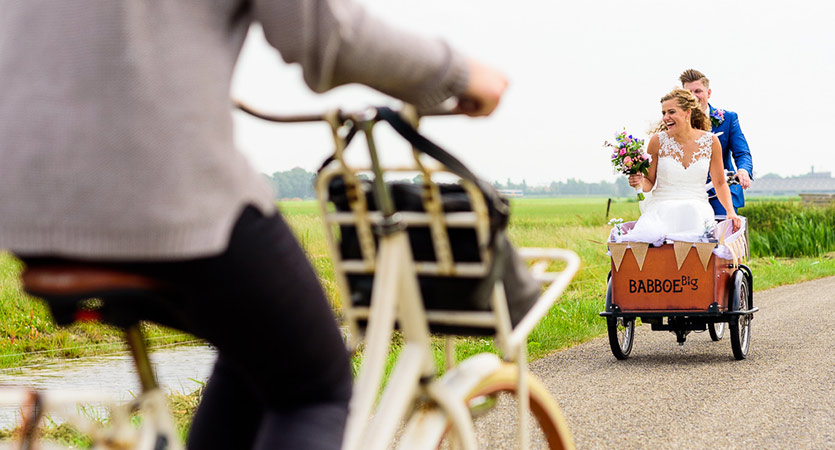 Photo: Nik & Dionne (photographer: Alex & Anne)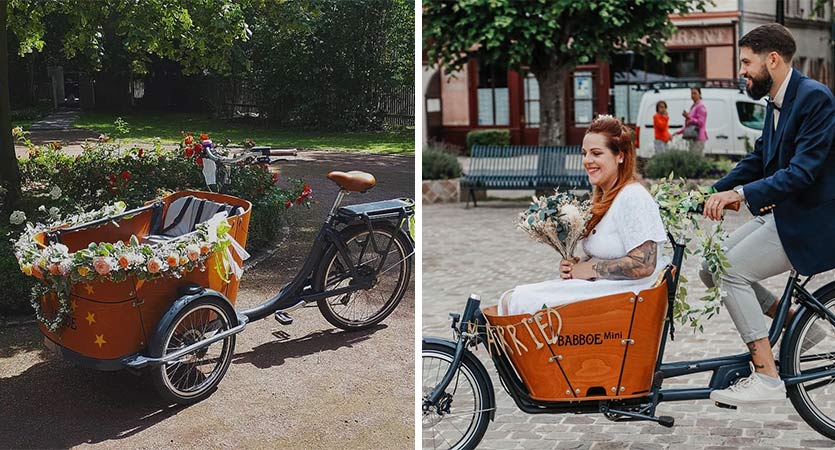 Photo: @ranunkelfloristik | @gangderouquins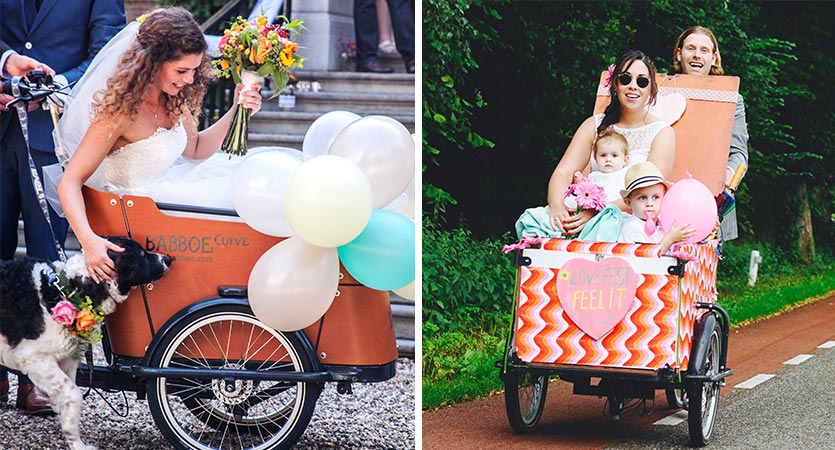 Photo: Menno & Diana | @mrsmigchelbrink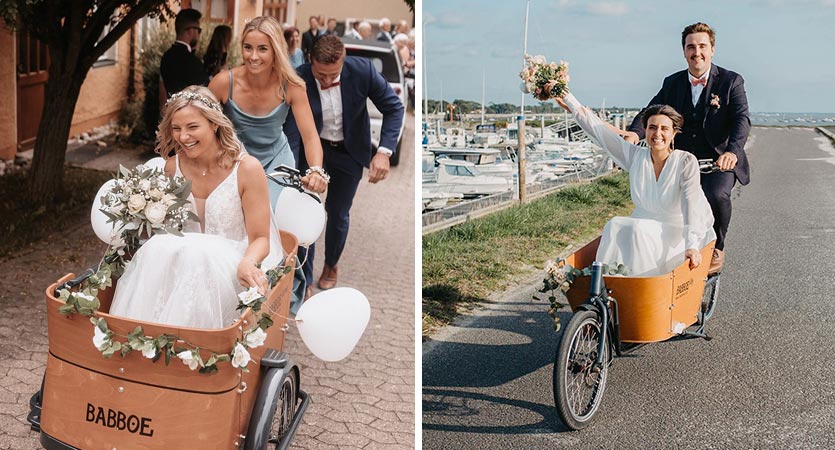 Photo: @happymims, @inlovewithawolf | @western_flyer_