After a nine-month wait, your little one has finally arrived. The maternity period flies by and before you know it, you want to get out on your bike again. On a cargo bike, naturally, because all through pregnancy you kept seeing yourself clocking up the miles with your children up front in the box. But from what age can you actually cycle with your baby? Great news! You can take your children out with you on a cargo bike from a young age. It's never too soon to cycle with your baby.
From just three months, on a cargo bike.
The minimum age when you can cycle with your baby on a normal bicycle depends entirely of course on your baby. From the moment they can sit up by themselves, little ones can come along on the front or rear of a bike. That is usually any time from six to nine months. With a cargo bike you can safely transport your baby in a special baby seat or Maxi-Cosi carrier from a much younger age. Little ones are protected by the design of the cargo bike and one of these baby seats. This is why, with our baby seat or Maxi-Cosi carrier, you can safely and responsibly take your baby with you in the cargo bike, starting from age three months.
It is of course important that your child's neck has grown strong enough. After all, your baby's safety comes first. Fortunately, your children are in front of you in the cargo bike, so you can keep a close eye on whether your children are still enjoying the ride. We also have some advice for extra safety, to ensure that you are fully prepared while out on the road.
What should your baby wear when travelling in the cargo bike?
Ensure your baby is dressed warm: a comfortable footmuff or a warm blanket for the body, and a hat. If it's cold outside, you could opt to install a rain tent on your cargo bike. This protects your child from the cold wind.
How long can you be out cycling?
Don't make your first ride a long one. A first outing can leave quite an impression on both you and your baby. So, don't go for a ride that lasts several kilometres, but limit your ride to about 15 minutes. If you notice your child isn't keen on riding in the cargo bike, try again in a few weeks.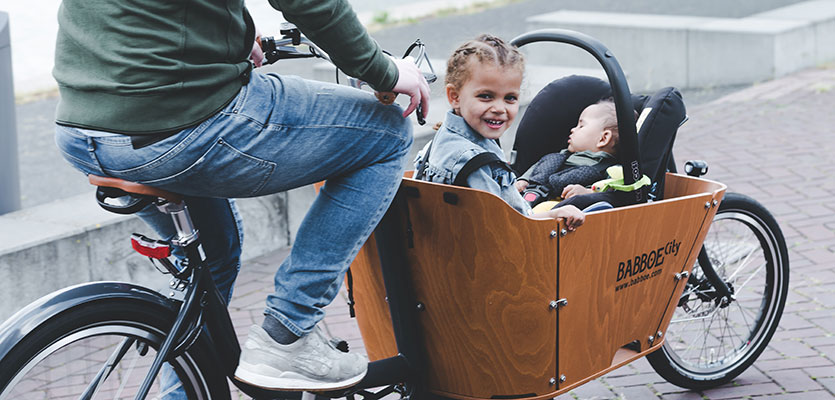 Advice for extra safety
Make sure baby is always held in securely with the correct fastening and belts.
Do not go on long bike rides to begin with. So make sure you only go for short bike rides.
Try to avoid bumps and shaking, which could make children feel comfortable.
Always keep baby in clear view. If your child is feeling uncomfortable, it's time to take a break or stop.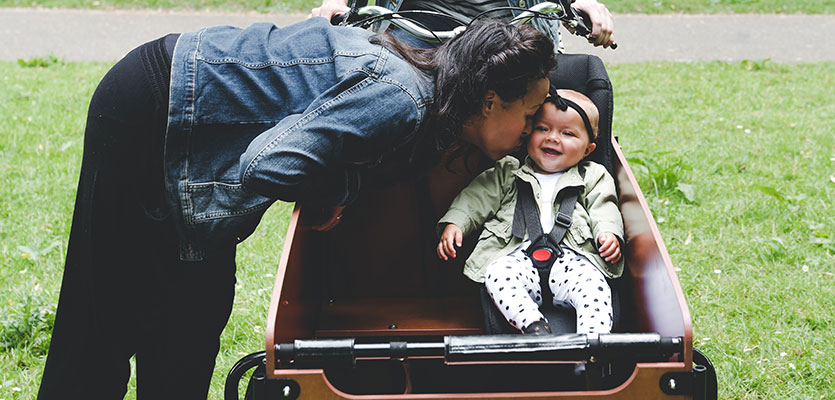 What's needed with each cargo bike?
The baby seat and the Maxi-Cosi carrier fit in different cargo bikes. Which baby seat suits your Babboe cargo bike best?
Can't wait to take your baby out cycling with you? With the baby seat or the Maxi-Cosi carrier in the cargo bike, this year will be one not to be forgotten!