It's not only young parents that inspire Babboe to develop new products and improve current cargo bikes, but also dog owners! They are part of our community too and they inspire us every day.
Milou Mathijssen (30) is both a young mother and dog owner. She shares wonderful adventures together with her ever-enthusiastic boxer Duke (7) and her son Mack (1). Maybe you've already seen Duke on your screen. You perhaps know this cheerful dog from Instagram, where he is known by the name of @DukeTheDutchBoxer. Milou started an Instagram account for Duke a few years ago and now they have more than 32,000 followers. Followers are kept up to date with her daily adventures, which in the Covid-19 period consist of walks and rides on the electric dog cargo bike. Babboe asked Milou about her experiences.
Which dog cargo bike do you have and what do you value most about your Babboe?
"At the moment, I have the Babboe Go-E, but first I had the Babboe Dog-E. So I have experience with both Babboe dog cargo bikes. The best general thing about a Babboe cargo bike is that the dog cargo bike is exceptionally practical. I can carry my son and dog at the same time and that's really great. So I don't have to leave Duke at home alone when I want to ride with Mack. They can both enjoy the kilometres that we cover. And then there's the space of the cargo bike: space for the dog, my son, AND the shopping."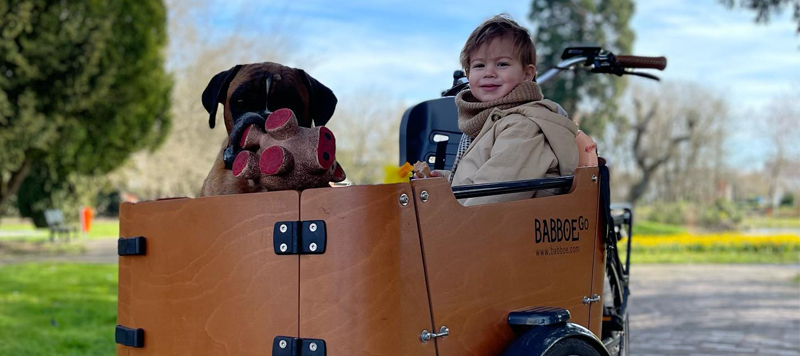 What was the Babboe Dog-E like?
"Well, it was a while ago, but I liked the Babboe Dog-E very much. It was a cargo bike specially designed for dogs. With the anti-slip mat, Duke can easily get into the cargo bike and sit down. Three months after Mack was born, he could come with me as well in the cargo bike in the baby seat on the folding bench. Even with all that weight in the box, the dog cargo bike accelerates quickly and the three wheels make it nice and stable. The cargo bike has a good battery, so you can travel a long way with your dog. I particularly appreciated the deep box of the Babboe Dog-E. This gave Duke enough room and he felt safe while riding."
What was the Babboe Go-E like?
"When the Babboe Go-E came onto the market in the summer of 2020, I swapped the Babboe-Dog-E for the Babboe Go-E. A good decision, because the Babboe Go-E is a truly fantastic cargo bike! This stylish dog cargo bike has a side door. That makes it very easy for a dog or a child to get in. The door is also handy when using the rain tent. Then I don't have to manoeuvre Mack through the little windows to put him on his seat: it's much easier with the door."
Did you notice a difference between the two dog cargo bikes?
"Personally, I find the Babboe Go-E takes corners better than the Babboe Dog-E. Perhaps that's because the Babboe Go-E has a lower box. That gives me the feeling that this cargo bike is a bit more compact and less cumbersome."
What do Duke and Mack think of the dog cargo bike?
"Duke and Mack think it's totally awesome going out with the dog cargo bike. Usually, when there's no lock down, I regularly bike to work with Duke. We always get much attention on the street and lots of nice reactions. A ride a bit further away to a wood or lake is really ideal with the electric cargo bike. These are distances that are just a bit too long to undertake on a normal bike. Duke and Mack really enjoy the trip and then have more fun in the woods or by the water. The cargo bike is a true luxury!"
How do people react to your dog cargo bike?
"People are always super enthusiastic when they see the dog cargo bike go by, both in the street and on Instagram. It's Duke that gets all the attention. You're soon sold when you hear her ears flapping in the wind. Every day I get questions about where the cargo bike comes from, whether there are more models, and whether it can be ordered from abroad. And all that's possible, because Babboe is available in more than 30 countries worldwide, and there's a suitable cargo bike for every family. The compliments about the beautiful design are always streaming in. Great to read!"
Are there certain things about the dog cargo bike you think could be improved?
"I would like to have a battery with a greater capacity in my dog cargo bike. Then I could more often reach maximum motor speed and not worry about whether my battery is still full enough. For the rest, I think the cargo bike is a dream bike. I can no longer do without it."