You've been wanting an electric cargo bike for a while now. You're looking around and you're comparing options, but every cargo bike you see is a bit expensive. You've decided to go for a used eletric cargo bike. But used is not new. There could be defects the seller didn't mention in his sales pitch. And of course you want to guarantee the safety of your children and be relaxed when riding. That's why you should know in advance what to check for when buying a used electric cargo bike. Here are a few tips!
Despite the fact you really want to opt for a used cargo bike because a new one is too expensive, it may not always be more economical in the long run.
What should you look for?
Should you be interested in buying a used electric cargo bike, then the battery is probably the most essential part. The most important question is whether the battery was maintained properly. Make sure the battery isn't damaged due to extreme temperatures, strong shocks, a crash, or water. In any case, test whether the battery can be charged on the spot.
If the wood of the box looks aged it doesn't necessarily mean that it's a bad sign. A coat of water repellent (yacht) varnish can work wonders. But make sure to check for wood rot. If the shows signs of wood rot, you'll be worse off.
Cargo bikes require the same maintenance as regular bikes. The moving parts should be lubricated regularly and the gears and brakes should be adjusted in time. Take the used cargo bike you want to purchase for a test ride and check whether the brakes and gears work properly.
Check whether the tires are okay and check for loose spokes in the wheels.
A used electric cargo bike may have some rust spots. A little rust isn't the end of the world, as long as it can be treated. You could use a rust remover spray to take care of it. It is also worth checking for rust underneath the cargo bike.
And of course, it is also important that the cargo bike rides smoothly. So bike around a bit on the cargo bike and see for yourself how it feels. No strange noises? Do the gears work properly? Do the brakes work well? And does the cargo bike run smoothly? Then this is probably the one for you!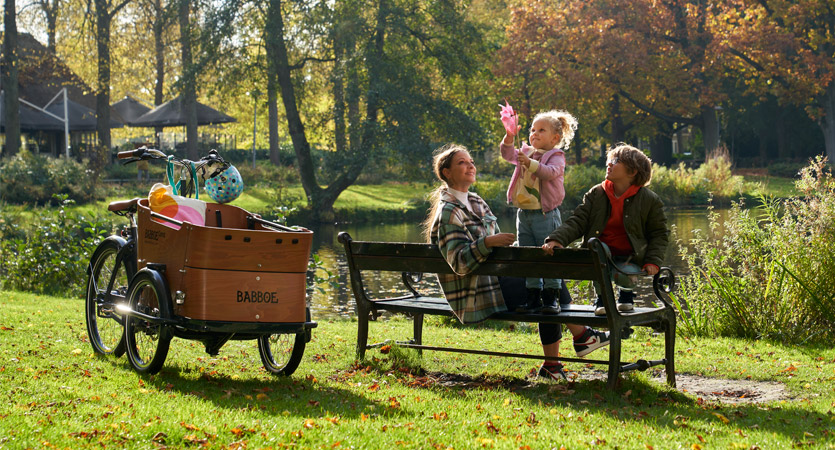 Advantages of a new cargo bike versus a used electric cargo bike
Despite the fact you really want to opt for a used cargo bike because a new one is too expensive, it may not always be more economical in the long run. Babboe has high-quality cargo bikes. They have been designed by parents with affordable cargo bikes in mind, without compromising their quality. A new Babboe cargo bike therefore costs almost as much as a used cargo bike from a different brand.
Moreover, a new cargo bike has some additional benefits:
When buying a new Babboe cargo bike, you'll receive a 5-year warranty on the frame. If you buy a new cargo bike, you can claim the warranty.
A Babboe cargo bike holds its value extremely well. After a few years, you can sell the cargo bike for a nice amount via a second-hand shop or other platform.
You are the first owner of the bike and therefore you know for sure that nothing happened to your cargo bike that would cause technical issues.
View the assortment
Are you leaning towards a new cargo bike? Take a look at our assortment.